Events
Introduction Seminars & Events in Sammatz

Please not that all further information on seminars, concerts and other events are available in German language only. You may check the links above to see this year's programs of the different sections.
The text below is from 2019 and served as an introduction to the first Michaelshof & House of Nature events program. It may still give English readers a general idea of what our educational and cultural work is about.
Place of encounters
Michaelshof is a place of encounters: encounters between very different people, between man and nature, between man and the cosmos, man and art, man and technology. In every instance that we encounter the world, we are simultaneously learning. To view life as an arena of knowledge guarantees that life will be exciting, eventful and free from monotony.
House of Nature
In this sense, Sammatz is an arena of knowledge relating to all spheres of life. Our new House of Nature strives to be a place in which one can encounter not only nature, but also people, art and technology.
Consideration of the cosmos is an essential starting point to harbour a deeper understanding of the secrets hidden within minerals, plants, animals, landscape and weather, besides illuminating the mutual relations between elements.
A Field of Experience…
…for the perception of all your senses
Befriend nature – through discovery and insight
The House of Nature aims to be realm of sensual perception. Through our senses we absorb the phenomena in their infinite varieties, but only the right conceptualization reveals the connection of things, whereby man is able to act in harmony with the natural phenomena.
In this way, he evolves from the mind-set of viewing nature as something to be used towards a more understanding and compassionate approach, whereby he participates in its formation. He becomes a friend as opposed to the exploiter of what surrounds him – things that are mostly completely undiscovered and overlooked.
Compost and Ants, Clouds and Weather
These ideas transcend the philosophical and become more concrete in our House of Nature Programme. Throughout the seminars, lectures and events, we will explore many topics, namely the role of manure and compost in agriculture; what, for example, ant, butterfly and bee mean for the ecological balance; what cloud formation and humidity tell us about the weather; what is the meaning of lime, pebble and clay in the context of the rock and material world.
Events from March 2019
In March our seminar program has started with a weekend workshop on apples and tree pruning. We are already curious to see whether our program will interest you. We would love for you to visit our House of Nature besides our gardens, farm, café and shop. Would it not be great if knowledge acquisition, sometimes lamented as being boring, could really have that feel-good factor?
Events
The other side of our public events comprises of experiences that are more immediate: celebrations, dancing, art – and everything in between. Michaelshof has always been a place where knowledge and the zest for life are deeply intertwined. Celebrations of a more personal nature such as birthdays and weddings, but also the annual festivals, etc. Musical delights such as the concerts at the Waldsee (where we can soon offer smaller concerts in winter), exhibitions and happenings (a term that is very open to interpretation) – we look forward to some surprising developments as the ball starts rolling in the coming year.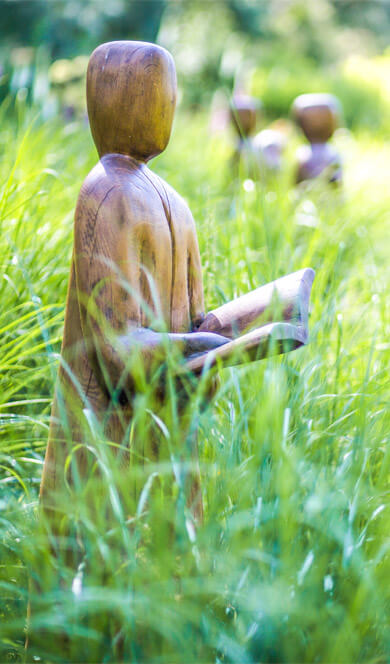 A Village of the Arts
Many of these developments come about by meeting and getting to know each other. As the Sammatz project becomes more widely known, the more likely people will experience it as a meeting point, which consequently diversifies our cultural life. A prime example of this is our acquaintance with Sophie Heinrich, a dear violinist who we came across by chance. We owe our wonderful series of Waldsee concerts in 2018 to her.
Upcoming Music Events
Perhaps some threads of life will bring us to the attention of Chilly Gonzales (who is unfortunately unaware of us); that would certainly be another highlight of our cultural programme, so that the Michaelshof village can solidify its status as an artistic hub! Sculpture, painting, acting and music can all make an impact in Sammatz. Additionally, architecture, language, eurythmy and dance – and, above all, the social art that Joseph Beuys designed in his own way and in doing so, spearheaded a new art form that was ahead of its time.
We are at the very beginning –
but there's often a special kind of magic in the beginning!
Maybe also with us?
We're still in the early stages – but there's often a special kind of magic in the beginning! Maybe this also applies to us? We warmly welcome you. You will find more details in this section of the website in the next few months – or you can simply go to the homepage and click <News>. See you!