Events
At Michaelshof our events can be categorised in 3 ways:
In the ‹House of Nature› seminars, lectures and experience weeks
for everything which concerns the topic of nature. These include courses on bees, ants, manure and compost, butterflies, roses, medicinal plants, soil quality, biodynamic agriculture and much more. The newly opened 'Haus der Natur' offers the ideal setting for such an endeavour, embedded in a natural environment that makes it possible to experience different natural spaces with all your senses, immersing your soul. Only those who know about nature can also fight for its survival. We would like to invite you! The current program can be found here (German only).
Concerts at the Waldsee
In 2018 we held our first concerts at the lake ‹Waldsee› and were surprised about the success ourselves. The open-air concerts harmoniously combine music and nature, for which the natural acoustics on the forest lake are ideal. To hear the sounds at twilight with the lake and the forest as a backdrop is a wonderful experience …Please see this year's program here (German only) and stay in contact for next year's music events.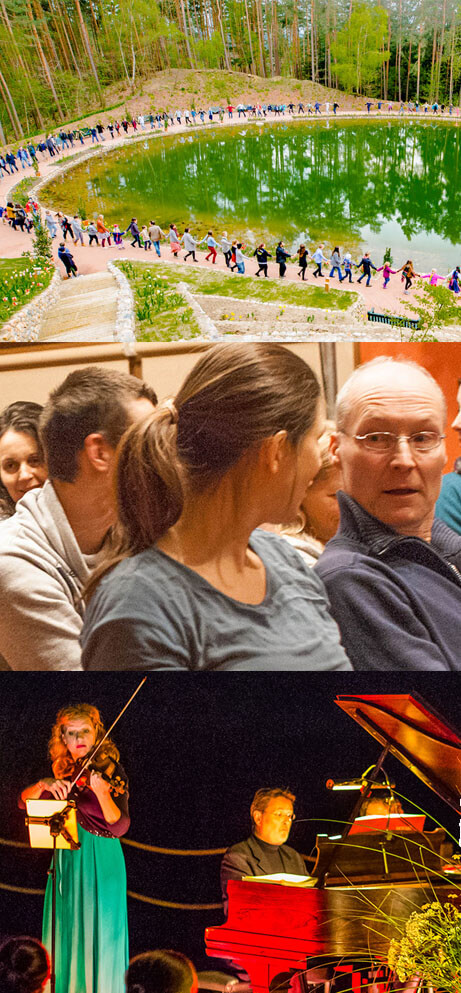 Events – between the lines of life

These are the events that take place, for example at a special time of the year, to celebrate a season; also children's parties, birthdays that are sometimes celebrated on a larger scale, dancing and open-stage events – in short, everything that unites art and celebration.
Some things are planned whereas others result spontaneously. If you often visit you will repeatedly encounter such events. You are welcome to participate in the pulsating life of our community, whether you want to dance or just watch, make music yourself or just listen, maybe play theatre or enjoy a barbecue with us. It is usually free but otherwise you can ask our staff or go in the shop or café to check how much it costs to participate.
Do you want to know more?
Please see
Seminars & Events Section