Volunteers Info / Apply

Contact
Michaelshof
Im Dorfe 11 — 29490 Sammatz
Phone: +49 5858 970 30
Mail: volunteer@sammatz.de
Location
Google Maps: 53.1923613, 10.8982792
Train station: Göhrde (5 km)
Bus stops: Pommoissel (4 km),
Leitstade (4 km)
Airport: Hamburg (HAM, 80 km)
We'll be happy to pick you up at the train station or at the bus stops.
Volunteering at Michaelshof
We are a colourful community of about 200 people – employees, children, volunteers from all over the world, children & young people with special-needs, guests … We live in a small village near the Elbe in a nature reserve with large gardens, agriculture, a children's home, a bakery, a dairy and much more. A construction team is always active, currently we are currently building several eco-houses made of wood. We look forward to your help in all areas.
There is almost always a lot going on at our place – there is a colourful life with a good mix of hard work and lots of fun. In the other pages of the Volunteers Area you will find a lot of information that will give you a clearer picture of our community.
A few things that are good to know if you want to live and work for a while as a volunteer in our community:
1No drugs/alcohol – we love people just as they are. Both are a no-go in Sammatz.
We ask that you also limit the consumption of alcohol outside of the place, because it negatively affects the work and social life. Other drugs are also a no-go outside.
2 The place lives from its beauty. Cleanliness and order are the basis for this. We rely on the help of all, that it is and remains beautiful inside the houses and out on the grounds.
3 Listening to music is only possible with headphones – and not at work. We do not believe in any distractions at work, rather it's better to focus on what you're doing! (Conversations are of course possible) In the common areas and in the gardens, listening to loud music always bothers someone. Therefore: headphones in, otherwise we prefer live music – there are a few instruments here …
4 You live in shared rooms. For longer stays, it is possible to change to a single or twin room, subject to availability. You live in a newly built, spacious guest house with large common areas and a great kitchen. There is plenty of space in the gardens if you need some peace and quiet.
5 The working hours depend on your personal volunteering arrangements. The weekend is free. Since there is still a lot to do on Saturday and Sunday, you can work on the weekend and get the hours off later.
You work mostly in teams. There are many different areas, the work is fun and you can learn a lot from it.
6 You get to know a community that is unlike any other. With very different people from different nations living, working and learning together. A unique experience that everyone should try!

This is a summary of the FAQ.
Please also read the complete FAQ below!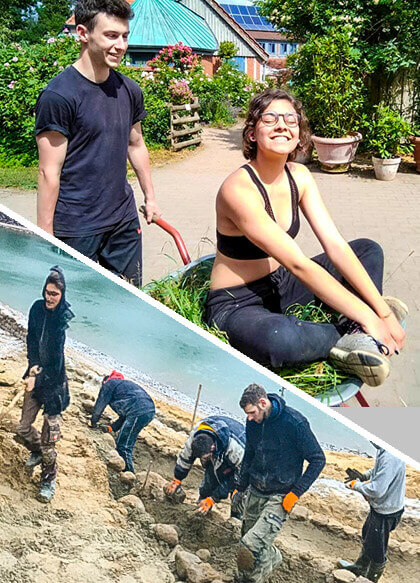 One more thing: We often have more applications than vacancies. That's why we have to choose between volunteers. Please: if we cannot host you, don't take it personal. Sometimes it's – apart from the info in your application – just gut feeling which has to decide.
×
Work
Working hours: Working hours depend on your personal volunteering agreement. General working time is Monday 'til Friday between 8 a.m. and 5 pm, with a lunch break. The shifts and time of day of your work may vary in different areas (bakery, stables).
Weekend: We have to look after the animals on weekend, too. The kitchen needs help on Saturdays, Café and bakery need help on Saturdays and Sundays. This is why we ask every volunteer to work 3 hours in the weekend and in exchange have an afternoon free during the week. This way we have a better base for us to plan and you can even arrange a fixed activity afternoon with your fellow volunteers. If you feel like working even more on the weekends, feel free! All the additional hours you can easily take off during your stay. Just talk to your mentor one day in advance until lunchtime.
What we offer: In addition to board and lodge we offer several extra services like: good quality all organic food for all three daily meals; a free daily consumption in our yummy organic café, with ice cream, drinks or cake; a big variety of work options with a lot of new skills to learn; free German classes, both for beginners and advanced speakers; free cars (and gas!) for spare time activities, shopping and other rides; 20 new bikes at your disposal for rides inside and outside the village; if needed doctors' appointments with translation help and any assistance needed in case you're ill; furthermore seminars and events in the House of Nature and the concerts at the Waldsee you can attend for free.
To offer these cool things we are reliant on you working more at our place than at other hosts. But work is fun because most of the time it's being done in teams with fellow volunteers and staff members and you learn a lot.
Work spaces: Volunteer work can be helping out in the gardens; on the farm (animals); in construction and renovation; in the kitchen; in child care; at Peronnik, our residential care for special needs children and youths; as a driver.
Joining staff: After 6 months – and when everything fits – you have the opportunity to become a co-worker in our community. If you have special skills that are urgently needed on site, it can sometimes go faster than 6 months.
Being here
Stay: While applying you usually tell us your arrival/departure dates. We take this information as mandatory so we can do our planning, too. If you wish to leave earlier, please tell us at least three days in advance. Likewise we ask you to talk to us beforehand if you want to extend your stay.
For longer stays we ask for a probational period of two weeks. During this time you and us can test if living and working together works out well. If one of us feels it doesn't, both sides are free to end our collaboration in a spirit of friendship.
Rooms: Since January 2019 our youth hostel is open to guests. We have built it for you with the help of many volunteers from all over the world. It has got a lot of space, however it was built to accommodate as many volunteers as possible. That's why there aren't any single or double rooms there. Rooms of that kind in other buildings are occupied by volunteers who already live and work in Sammatz for a longer period of time. In this case, when you want to stay with us two or three months, there is usually an option to a single or double room.
In the new hostel there are larger and smaller bedrooms you'll have to share with several other volunteers. We provide bedding.
Then we have two common rooms, a pretty large one (called the Living Room) and a smaller one (Little Lounge). So you don't have to "live" in your bedroom. We've also got a big kitchen you can use.
Meals: We provide three meals a day. Volunteers and many of our staff have lunch together in a big lunch room. You have breakfast and supper on your own (that is: with your co-volunteers), we just provide the food. The helpers often cook in the evening. Also we run a nice organic café with drinks and sweet stuff (ice-cream!) where you can have a daily consumption for free during week days.
Clothes: Bring rain protection, clothes for nice to ugly weather and solid shoes for the acre with you. During the next months temperatures will be everything from about -10 to 15° Celsius, so you'll definitely not get along without warm stuff (like a pullover, a warm jacket and so on). We provide a washing machine where you can wash your clothes for free.
Internet: You have access to internet via Wifi all the time (though it's sometimes slow because of heavy use). There is a computer and a printer in the common rooms you can use.
Tours: If you want to go on a sightseeing trip to Hamburg, Berlin or Bremen or if you have other short term visiting trips in mind , we will always try to help you with planning and rides to and from the station (the same goes for shopping trips to the next town).
Living together
Cleaning and care: With so many people living together, cleaning is essential. We have regular shared cleaning dates, and in addition specific personal cleaning jobs according to a cleaning schedule. Cleaning is done outside work hours.
Whether living together works out well depends not least on us keeping the house clean – even if some people may only start to learn how to clean at our place. Let's be clear: He/she who doesn't want to clean cannot live here. If you don't clean, somebody else has to do it for you, and that's bad for the social climate. This is why we reserve our right to ask persistent non-cleaners after several admonitions to look for a different host for their volunteering.
Alcohol, other drugs: The consumption of alcohol and other drugs (including weed) is strictly forbidden both inside and outside the houses. After some disappointing experiences regarding the compliance with this ban it's our rule that immediate expulsion is possible if you fail to comply. When signing our house rules at your arrival you accept that if such a failure occurs you will promptly leave on cordial terms. Please be aware that ‹hiding› alcohol and drug consumption is pretty hard at this host and the bad feelings will only be worse afterwards. Dealing openly with these things is part of the positive atmosphere of our place.
We kindly ask you to refrain from alcohol and drug consumption during your stay also outside our place/village as much as possible, because we experienced working with entirely sober people, who are just themselves, is by far the most fruitful thing to do. Sometimes volunteers didn't answer to this plea and the effects of booze and weed could be felt in the life and work of the place. This is why we reserve our right to throw people out in this case too.
Take care then, that if you have to drink alcohol outside of our place at all, you do it low-key. Any other drugs (including weed) are a no go also outside of our place. Keep in mind: You work here as a volunteer. There are many great places apart from us which are not as strict with alcohol and drugs as we are. That is, if you don't agree with these conditions and you cannot or don't want to comply with them you should choose another host. If not we assume that you will stick to our rules of life and work.
Smoking is also strictly forbidden in the houses and on our premises. If necessary you can do it along the neighbouring road. Doing otherwise can as well put your stay into question.
Please excuse that we're commenting clearly and at length on this topic. Unfortunately, our ‹soft› approach to deal with these matters led to non-compliance of a few people. By far the vast majority of volunteers never had a problem with it. Yet some showed with their behaviour that they have little respect for the atmosphere of the place. This we wanted to rule out without any ambiguity. 🙂
Human interaction: It should go without saying: At our place any kind of violence, both against human beings, animals or objects is excluded. In other words: aggressive behavior with acts of violence or threatening to act violently leads to immediate expulsion.
To us respect for human beings, animals, plants and the earth is a foundation for living together.
Music, a different topic: We're convinced that distracting your mind isn't contributing to fulfilled experiences, especially when working. That's why we ask people not to mix working with listening to music (ear phone or other). Better be 100% present in what you're doing and enjoy a talk or other fun in the teams you're usually in!
As a matter of principle, listening to music from speakers is only allowed in your bedroom and at a tolerable level because it can always be pretty nerve-racking for your housemates. In the common aeras of the houses we only allow listening to music with earphones. Same goes for the entire grounds of Michaelshof.
We hope that this doesn't sound too straight or scary – we're actually quite relaxed and kind but we do wish to avoid bad feelings when expectations and our place might not match!