Food from Michaelshof
Healthy and tasty
Good food
starts in the fields and animal pastures
Producing foods that are both healthy and tasty has always been an important task for us at Michaelshof. Here I would like to outline some of the basics needed to produce such foods.
Every year is different
For several decades we have been cultivating vegetables. The cultivation has run through the years and has now found its home on our farm. Although we can draw on a lot of experience there are always new surprises every year. As everyone knows, last year was accompanied by a drought unlike anything we had experienced in the last 30 years; there was little rain from the end of April until late September. That meant watering, watering and more watering. Thanks to our gardeners we nevertheless achieved healthy growth and, as a result, a good harvest (of cabbage, celery, leek, strawberries). We are very proud of this. Of course, this also applies to our flower and ornamental gardens, where many visitors are amazed that everything here is so green and colourful. An unusual sight this year!

The weeds and us – and a few extra strong guys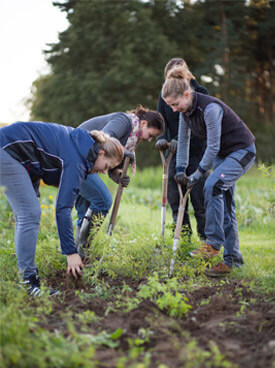 It goes without saying that we grow in Demeter quality. You can just look at the vegetable and see how healthy they are. The kitchen brings this to life through good preparation which gives the taste buds a tantalising experience.
Our biggest opponent here – as with anywhere that refrains from the use of pesticides and other things – is the weeds. Although these plants of course have their full justification in the diversity of the natural world, they are unfortunately out of place on the field. If they are not hacked and weeded in time, they cause the vegetables to wither.
Every year we hurry ourselves and we are happy when we manage to beat the weeds. We have variable success in doing so. Through our increased number of helpers, we have improved significantly. However, there is always room for more improvement! The joy of successful vegetable cultivation is usually fully experienced in October, when at the time of Thanksgiving most of the produce is stored in dry cloths and in large vegetable crates. Alternatively, it goes into the hands of our customers or our kitchen team for delicious preparation.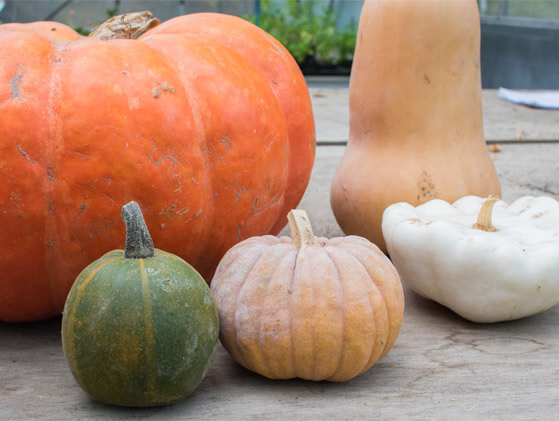 Producing foods
that are both healthy and tasty


A particular highlight is the yearly pumpkin harvest. It is always overwhelming how they are hidden under their big leaves and then come to the light, revealing their magnificent appearance. If they are well prepared, then they are extremely tasty. Not very fashionable nowadays but we think that is unjust. We recommend pumpkin for lunch!
Next year we hope for more rain!
The food cultivated on our larger arable land also provides for our farm animals, who are the other suppliers of delicious food. Whether cow or horse, donkey or pig, poultry, sheep and goat: They all love what grows on the field. First and foremost, this is the hay we make on our clover grasslands, which is very tasty for the animals to graze. Despite constant irrigation, our harvest has been affected by the drought meaning that we have had to buy a lot from outside sources this year. Of course it's of organic quality, but not from here or from the neighbouring areas, where the harvest has of course also been substandard. We do not yet believe in long-term climate change and instead pray to the weather gods for more rain next year! (Of course not too much …)
Animals want nice food too
The hay, which we got partly from Bavaria, is of outstanding quality. The cows pounce on the tasty grass as they usually do only with their beloved power-foods (cereals, turnips, potatoes). It's worth the effort as it helps to keep the milk yield of the cows, sheep and goats stable.
Having hay of exceptional quality is necessary especially for the feeding of the horses and donkeys, who are only allowed to eat the lean hay that they are able to digest. It's a different story with our poultry and our pigs; they eat everything. Although they love grains the most, they also like grass, dairy products such as whey, and kitchen waste (of course, only the digestible). Watching them greedily devour the food can always put you in a good mood!
Further processing on your own farm
Our food processing services – and, of course, the farm – have emerged only in recent years: dairy, bakery, gastronomy, herbal manufactory and fruit and vegetable processing. This includes the meat processing, for which we currently hire an external organic butcher. From next year we are planning to build our own slaughterhouse.
Guests can buy or consume our products in our farm shop, café and perhaps in the future also in a restaurant. We are happy if you like the taste!
We manufacture our products with love, because growing and processing food in such a way that consumers, products and the environment simultaneously receive the greatest possible support is the highest art. We live our daily lives according to this principle.
We are happy
if you like the
taste!
Guten Appetit!
Buen apetito!
Enjoy your meal!
Bon appetit!
приятного аппетита!
胃口好 良い食欲