Kitchen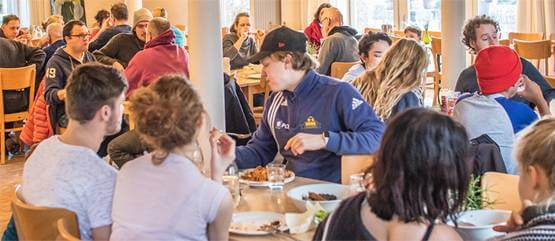 It gets lively every afternoon (except Sundays) at 12:30 on the dot in our dining hall. People from all the different work areas gather in our main building in the middle of the village to have a tasty meal together.
The food is already on the table, you just have to sit down and start. Diverse discussions arise here. If you do not have so much to do with our volunteers from all over the world, you can meet their acquaintance.
Culinary opinions are sometimes divergent but overall there is always something for everyone (like the fried-up pasta from the previous day :-)).
Depending on the season, a variation of vegetables from our field are processed; from the first lettuces in spring, to the tide of zucchini in July, to the fat pumpkins in autumn and winter. We also have celery, carrots, leeks, corn, tomatoes and many more vegetables that play a big role in our diet. In addition there is a variety of carbohydrates such as pasta, rice, couscous or potato dishes. From time to time there is also a piece of meat from our farm butchery, which gets pulses racing. For dessert, the products from the dairy are on offer, mainly in the form of delicious yogurts or shakes.
From the spacious dining room you have a wonderful view of the kitchen, where the chefs are usually still by the steaming pots during the meal, answering questions, keeping food warm for the latecomers or even discussing the next day. They are relieved when everything goes well and the food is on time. When people say 'the food was delicious today' then they know everything is ok. Our chefs Lea and Christian have had a successful working day, because to produce 120 – 200 meals (depending on summer and winter season) requires a lot of preparation.
When the people start the leave, the big project 'washing up' begins. Everyone takes it in turn. The plates rattle and many hum a tune when the task becomes somewhat monotonous.
In the afternoon, cheeses and meats are often packed here for the farm shop or the fruits from our field are preserved. If the beetroot harvest was abundant again, it will take a few weeks for everything to be cooked, cut and soaked. Everyone will suddenly have red hands. Mashing the sauerkraut is also popular. Here you get points for strength and endurance.
The end-products go into our storage cellar, in which the large glasses of cucumber, beans, applesauce and co. are stored. The shelves there will empty again within the next year and be replaced by new glasses, there is really no space there … 🙂
The kitchen is also open for guests (9,50 € / meal). Booking is required