Other Events

Celebrating – having fun and/or being serious
Sometimes celebrations are just fun and an opportunity to be together outside of work. Like for instance an evening of dancing with a barbecue on a warm summer night. Sometimes the event is also for the wider neighbourhood, such as our colourful winter market that turns Sammatz upside down the day before Christmas.

Some of them are also serious. For example, when we meet with employees and friends at the turning points of the year – Easter, Pentecost, Christmas, etc. –, we share something artistic and discuss topics that move us. This is important for the spirit of togetherness that every community needs in order to survive. Then there is the Sammatzian choir which has always played a considerable role of steady support in Sammatz celebrations.
… for the spirit of togetherness that every community needs
in order to survive …
Spontaneous music – Open Stage!
Where there are volunteers, there is also music. Every now and then, guitars are plucked, songs are sung quietly, sometimes someone hesitantly tickles the ivories. It's also a bit embarrassing in front of other people. But if there are enough enthusiastic musicians, it's time for Open Stage! An evening with improvised or quickly rehearsed performances, everyone plays what they can. The ever-changing line-up consists of volunteers, employees, neighbours. Some things go wrong, others are impressive and moving. The room fills up; there is laughing, clapping, amazement. At the end we all sing together. The mood of the evening lingers happily in the air for a few days and so do the catchy tunes!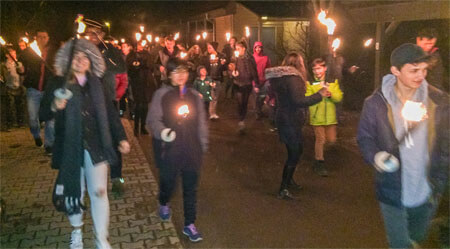 Birthdays, baptisms – personal occasions bring us together and these events also sometimes lead to village parties. After there was a wedding on the first of May, this day has become something of celebration for the volunteers for years. They thought that we always celebrate this day so extravagantly…
… which break the
course of life like
sparkling, shooting stars …
Michaelmas, the autumn festival held during harvest time, is no laughing matter. Especially not for the kids. They are full of anticipation for weeks. They know exactly what's going to happen; the test of courage in earth, water, air and fire, besides forging iron (for the older ones). Finally they are knighted with a torch and golden crown. Every year it is a great moment; a bright image that will remain.
A different type of event
A different type of event is in its infancy. Such event comprises of music, theatre and pantomime in the gardens or in front of the café. Surprising happenings, creative interventions that remind us that 'everyday life' is always a mask; an illusion that makes us believe all too often that we already know everything that happens. But those who do not expect miracles will also perhaps miss them…
We dream of many activities of this kind in the future, which break the course of life and refresh us like sparkling, shooting stars. Let's see what else will be possible in the creative realm between the ‹Haus der Natur›, the concerts, staff, volunteers, guests, nature and people!